Polygem Quart Kit (A/B) ACC1550 -ACC1550- Fauxstonesheets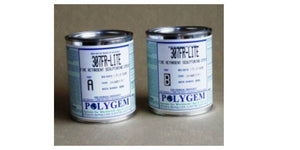 Polygem Quart Kit (A/B) ACC1550 -ACC1550- Fauxstonesheets
Polygem Quart Kit (A/B) ACC1550
---
Quart-sized Polygem Epoxy Kit with A/B compound.
307 FR-LITE is a 100% solids class 1 Fire Rated, light-weight epoxy system specially formulated to a trowelable paste consistency for sculpturing and fabricating projects.  307 FR-LITE will cure into an extremely strong and lightweight plastic that is easily sanded or shaped. 
307 FR-LITE can be tinted or painted and will even accept stains. 307 FR-LITE bonds well to most surfaces including fiberglass, foams, metal, wood, and concrete.  307 FR-LITE is solvent-free so it won't melt or dissolve foam surfaces.
25% lighter formula
NO solvents
Non-toxic
Sandable
Paintable
Pigmentable
Environmentally Safe
Cleans up with Water
PRODUCT DETAILS
MODEL
ACC1550
Series:
URESTONE
Style:
Polygem Quart Kit
Type:
Quart

General

Dimensions:

48" x 24"
Weight:
2lbs