Stucco Clad Paint Kit ACC1604 (Full Kit) -ACC1604- Fauxstonesheets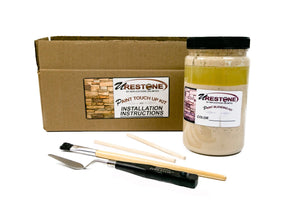 Stucco Clad Paint Kit ACC1604 (Full Kit) -ACC1604- Fauxstonesheets
Stucco Clad Paint Kit ACC1604 (Full Kit) -ACC1604- Fauxstonesheets
Stucco Clad Paint Kit ACC1604 (Full Kit) -ACC1604- Fauxstonesheets
Stucco Clad Paint Kit ACC1604 (Full Kit)
---
The proper colors will be chosen based on your order.
***If you have ordered previously and do not have your panels in this order please put a note in the check out for which color you need the paint kit for.***
It varies in the number of colors you will receive based on your color. 
Kit Includes:
A quart bottle of textured paint
1/2" Brush
Pallete knife
Installation Instructions
Dowel rod
* Special Stucco Clad screws & plugs sold separately.
PRODUCT DETAILS
MODEL
ACC1604
Series:

Installation

Accessories

Style:
Paint Kit
Type:
Paint Kit

General

Dimensions:

N/A
Weight:
1lb