Posted by Jerrod Jarboe on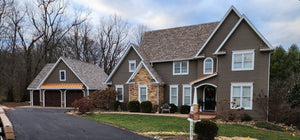 Are you looking to add the timeless beauty of stone to your home or business? Traditional stone materials like granite, limestone, and marble can be expensive, heavy, and difficult to install. Fortunately, there's an alternative that's more affordable, lightweight, and easy to work with: Urestone Faux Stone Panels.  What are Urestone Faux Stone Panels?  Urestone Faux Stone Panels are high-quality polyurethane panels that are designed to look and feel like natural stone. They come in a variety of styles and colors, including stacked stone, brick, and river rock, so you can find the perfect look for your project. They're also...
Posted by Jerrod Jarboe on
If you're looking for an easy and cost-effective way to add a touch of elegance to your home or office, faux stone ledgestone panels by Urestone might be just what you need. These panels are a great way to give your walls or other surfaces the look of natural stone without the hassle and expense of traditional masonry. Installing Urestone Faux Stone Ledgestone panels is incredibly easy and can save you a lot of time and money on labor costs. Unlike natural stone, which requires skilled masons to install, Urestone panels can be installed by anyone with basic carpentry skills...