R-Panel Wainscot Trim Sample -SMP1650- Fauxstonesheets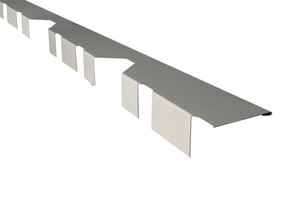 R-Panel Wainscot Trim Sample -SMP1650- Fauxstonesheets
R-Panel Wainscot Trim Sample
---
R-Panel flashing is designed for the gap between the metal building profile and the URESTONE Wainscot Panel.
This is a 18" wide section to be used to test with metal building siding.
No other color options are available for sample purposes.
Not the advertised size
They advertise an 18" sample
I got one that was 11" and one that was 13".
Wain coat trim panel
Would think that the trim panel would fit the R panels with a smaller gap between the trim piece and R panel. It has a 1/4" gap sometimes or larger.
This is designed this way intentionally to accommodate variances that occur in the installation on the R Panels from metal building to metal building.